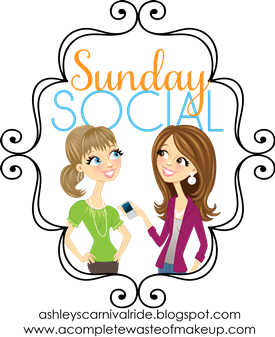 Today I am joining Ashley and Neeley's Sunday Social. Hopefully this will be a fun way to meet some other bloggers or learn some interesting facts about ones I already love.
How did you come up with your blog name?
When I started my blog I had no idea what I was getting in to. Aaron and I we still newleyweds and I thought it would be fun to play off of our last name hence the beginning of the Galloway Way! I can't say I absolutely love it but I guess it works, I have toyed with the idea of changing it since the littles came around, but I wonder if that will cause more confusion than good.
What is your favorite thing about blogging?
Being able to easily document my families life. While I am not super consistent I love being able to look back at the things that I do post and have a place for special memories for many years to come.

What is one thing you have discovered because of blogging and now can't live without?
Instamgram and twitter, both which make blogging so much more fun!
Facebook or Twitter? and why?
This is a hard one, can I have a little bit of both? I use them for two totally different reasons. Facebook is my IRL friends and family. It is a way to keep up with people that I would have no other way to. Twitter is my virtual world where I have connected with others mostly in the same season of life as myself, without many of the constraints we feel with IRL friends. I feel I can be more vulnerable here because I don't have to see the people face to face.
If one celeb read your blog who would you want it to be?
Oh wow! If a celebrity was going to read my blog, I think I would need to make it way more interesting. But if one was I think it would have to be a celebrity twin mom. That is one thing I have enjoyed so much is meeting other Moms of Multiples through the internet, so I guess maybe Julia Roberts! I think she is absolutely amazing and would be so honored.

What is something you want people to know about your blog?
This blog was created for me to document my families memories but has become so much more. I have been able to "meet" and connect with others that I would never have without it. It is a little slice of my life and I am glad you stopped by to visit!